How To Create A Guild
To create a guild, you would have to meet the following conditions:
Player's rating level is ≥30
Player has 150,000 cloud coupons
Player is currently not in a guild
After meeting the condition, go to the city of Sulan and look for the guild NPC who is inside of a house.
To create a guild, it would cost you 150,000 cloud coupons.
Application steps:
After finding the NPC, select "Create Guild" in the pop-up page and enter the name of the gang (2-8 characters) and the Society Declaration (optional). Set the guild battle flag shirt. Then click the "Create" button.
You need to have at least ten players in your guild within 72 hours in order to complete the official activation.
If you cannot recruit at least ten players, the guild would disband.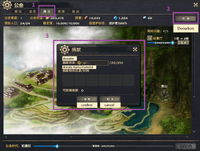 How To Contribute
There are many ways to contribute to your guild. You can either donate gold/items or do daily guild quests (ppl under lvl 40 should do the basic daily quests at the guild island; e.g. wood-work) to add exp-points for your guild lvl. You have to be at least lvl 30 to be able to do guild quests.
Press G to access guild-menu
| Item | Name | Location | Usage |
| --- | --- | --- | --- |
| | Converse Notes | Quest, Dungeon | Donate through Guild Menu |
| | Magic Crystal | Quest | Donate through Guild Menu |
| | Citizen Book | Quest | Donate through Guild Menu |
| | Citizen Paper | Quest | Convert 10 into Citizen Book |
| | Lost Paper | Quest | Convert 10 to Lost Book |
Guild Island
In Revelation Online your guild owns an island which is instanced, so you are not able to fly there. To get there you need to talk to an NPC.
Press M to open the map and go to the guild NPC
Press F to talk to the guild NPC and press 3 to enter the guild island
Ad blocker interference detected!
Wikia is a free-to-use site that makes money from advertising. We have a modified experience for viewers using ad blockers

Wikia is not accessible if you've made further modifications. Remove the custom ad blocker rule(s) and the page will load as expected.